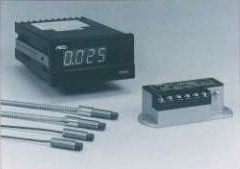 The 73-V can measure shaft vibration amplitude without target contact using a GAP-SENSOR. When vibration exceeds a preset value, an alarm can be triggered.
Features
Small size (96 x 48 x 132mm, 450g)
Easy installation into control panels (DIN standard 92 x 45mm rectangular opening)
Cable between monitor and transducer can be several hundred meters
Parameter settings (output scaling value, zero setting, alarm point resetting, etc.) are easily made at the front panel. Panel cover prevents accidental tampering with the settings.
The monitor determines whether or not the sensor operating conditions and installation position are correct.
The power supply for the transducer is equipped in the monitor.
Free power supply (AC85-264V, 50/60Hz)
Several signal filters are included, and custom filters can be specified by the user.
A centralized control system using a personal computer can easily be constructed using these monitors due to their output of 4-20mA or RS-485 communications interface.
Front & Rear Panels
Switches on Front Panel, Cover Open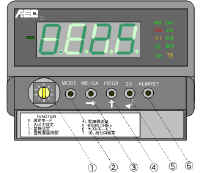 Terminals on Rear Panel
| 4-20mA Output | RS-485 Output |
| --- | --- |
| | |
| Switch | Function 1 (In Measuring Mode) | Function 2 (In Measuring Mode) |
| --- | --- | --- |
| 1 | Function Switch (refer to spec.) | - |
| 2 | MODE (measuring/setting) Key | - |
| 3 | ME/GA Key | ® (Shift) |
| 4 | HOLD (peak/bottom/peak to bottom) Key | ­ (Up) |
| 5 | ZS (zero set) Key | ¿ (Return) |
| 6 | ALM RST (alarm relay reset) Key | - |
Contents
| | | |
| --- | --- | --- |
| Vibration Monitor | 73-V□□ | 1 Piece |
| Sensor | S-06-□□ | 1 Piece |
| Sensor Cable | PC-□□□□ | 1 Piece |
| Transducer | 7606-□□ | 1 Piece |
| Extension Cable | EC-□□□□-P (optional) | 1 Piece |

Type Selection
Vibration Monitor 73-V
Spec. No.
Specification

Input

1

Input of 1-5V

2

Input of 4-20mA

LPF

1

10kHz LPF

HPF

1

5Hz HPF

Output

None

Output of 4-20mA

R

Output of RS-485
Sensor
Spec. No.
Specification

S-06

Cable

None

400mm

-1

1000mm

Armored Cable

None

No Armor

F

Armored Cable
Sensor Cable PC-□□
Spec. No.
Specification

Length

3-Meters System

03

300mm with S-06

02

1970mm with S-06-1

6-Meters System

06

6000mm with S-06

05

4970mm with S-06-1

Connector

YY

Connector both sides

Armored Cable

None

No armor

F

Armored cable
Transducer 7606-□□
Spec. No.
Specification

Type

3

For 3-meters cable system

6

For 6-meters cable system

Output

4

Output of 0.6mm/V

A

Output of 4-20mA/FS
| Extension Cable EC-□□□□-P | Spec. No. | Specification |
| --- | --- | --- |
| Length | □□ | □□ meters |
| Connector | AA | Arrows type terminals |
| Wire Type | P | 3 cores shielded |