This 55MS rack style transformation device arranges the volume for correction in the panel entire surface and even the power supply excels and includes. The trouble and time when able to cancel the inconvenience of wiring by this and be linked to correction can be shortened substantially. Also, the 55MS rack style transformation device is 3 kinds (S M L) and respond and able to correspond to plural GAP-SENSOR individually size.
Front & Rear Panels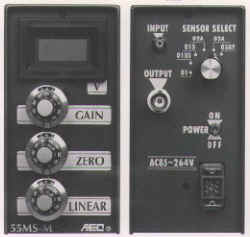 60mm Wide x 120mm High x 140mm Deep, 650g
Gain
Gain [V/mm], the output voltage verses gap, is changed. The center of the change is on 0V.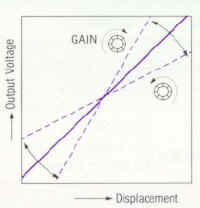 Zero
Output voltage can be shifted, without changing its gain, to adjust the voltage to zero.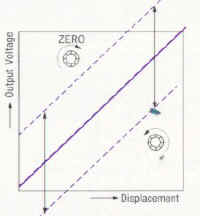 Linearity
The linearity of the typical response can be adjusted. ZERO and GAIN must be readjusted after LINEARITY has been adjusted.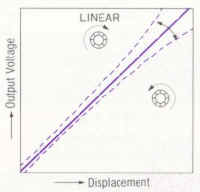 Features
Non-contact measurement device
DC~20kHz response
Ability to measure displacement and vibration
Many sensors to choose from, ultra miniature in size and a variety of shapes
Easy calibration and adjustments
Digital display of output voltage
Free power supply (AC85-264V, 50/60Hz)
Multi-channel type available
55MS-S System
Transducer

55MS-S

Sensor

PU-01

PU-015A

PU-015S

PU-02A

PU-03A

Sensor Cable

PC-03YY

Measuring Range

0~0.15mm

0~0.3mm

0~0.2mm

0~0.5mm

0~1.0mm

Output Voltage

0.1mm/V

0.1mm/V

0.1mm/V

0.2mm/V

0.2mm/V

Resolution
at point 1/2 full-scale

0.8mm

0.8mm

0.8mm

0.8mm

0.8mm

Frequency Response

DC~20kHz

Linearity

±3%

±1.7%

±5%

±2%

±1%

Operating Temperature Range

Sensor

-20~+120°C

-20°C~+180°C

Transducer

0°C~+50°C

Temperature Variation

Sensor

0.3mm/°C

0.7mm/°C

0.7mm/°C

0.9mm/°C

0.6mm/°C

Transducer

0.3mm/°C

2.0mm/°C

Power Supply

AC85~264V 47~440Hz 10VA
55MS-M System
Transducer

55MS-M

Sensor

PU-05

PU-07

PU-09

Sensor Cable

PC-03YY

Measuring Range
(when target is iron)

0~2.0mm

0~3.0mm

0~4.0mm

Output Voltage

0.2mm/V

0.3mm/V

0.4mm/V

Resolution
at point 1/2 full-scale

0.8mm

1.2mm

1.6mm

Frequency Response

DC~20kHz

Linearity

±5%
±3%(0~0.2mm, 1.8mm~2mm)

±5%
±3%(0~0.3mm, 2.7mm~3mm)

±5%
±3%(0~0.4mm, 3.6mm~4mm)

Operating Temperature Range

Sensor

-20°C~+180°C

-20°C~+120°C

Transducer

0°C~+50°C

Temperature Variation

Sensor

1.0mm/°C

1.5mm/°C

1.6mm/°C

Transducer

2.0mm/°C

3.0mm/°C

4.0mm/°C

Power Supply

AC85~264V 47~440Hz 10VA
55MS-L System
Transducer

55MS-L

Sensor

PU-20

PU-30

PU-40

Sensor Cable

PC-03YY

Measuring Range
(when target is iron)

0~8.0mm

0~12.0mm

0~16.0mm

Output Voltage

0.8mm/V

1.2mm/V

1.6mm/V

Resolution
at point 1/2 full-scale

4.8mm

7.2mm

9.6mm

Frequency Response

DC~20kHz

Linearity

±5%
±3%(0~0.8mm, 7.2mm~8mm)

±5%
±3%(0~1.2mm, 10.8mm~12mm)

±5%
±3%(0~1.6mm, 14.4mm~16mm)

Operating Temperature Range

Sensor

-20°C~+120°C

Transducer

0°C~+50°C

Temperature Variation

Sensor

4.0mm/°C

6.0mm/°C

8.0mm/°C

Transducer

8.0mm/°C

12mm/°C

12mm/°C

Power Supply

AC85~264V 47~440Hz 10VA
Sensor Illustrations
| | |
| --- | --- |
| PU-01 | |
| PU-015S | |
| PU-015A | |
| PU-02A | |
| PU-03A | |
| PU-05 | |
| PU-07 | |
| PU-09 | |
| PU-20 | |
| PU-30 | |
| PU-40 | |
Optional Equipment